Flexible home working solutions. Crown Imperial offer an array of flexible home working and storage solutions, ideal to transform every available space within your home. With an array of stunning styles, now is the perfect time to refresh your furniture and achieve a sleek and organised look.
Designed around your lifestyle needs, Crown Lifespace boasts a variety of configurations to maximise every centimetre with modular furniture elements. Create the perfect ergonomic fit, whether you are looking to achieve a dedicated room, convert a landing, utilise that forgotten corner or add to a bedroom or kitchen space.
BI-FOLD CABINETS
Hinged for easy use, Bi-Fold frosted doors are a contemporary alternative to traditional cabinets.
FILE DRAWER
Highly functional, LifeSpace file drawers are a must for organising paper work.
STATIONERY TRAY
A moulded pencil tray is a necessity for keeping desk drawers in order. LifeSpace includes a pencil tray with a compartment for every piece of stationary you might need.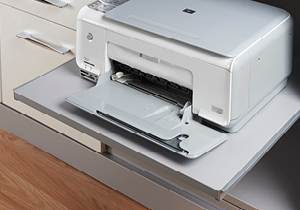 PULL OUT SHELF
Smart pull out shelves keep computer accessories out of view when not in use, but ensure essentials are instantly accessible when needed.